French Foreign Trade Advisors Regional Meeting in Bahrain
in 2019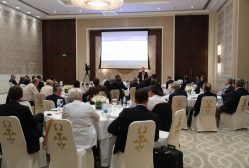 The Committee of Foreign Trade Advisers of France in Bahrain hosted the Regional Annual Meeting of Foreign Trade Advisors for the Near & Middle East zone, on November 14 and 15, 2019.
The two-day meeting took place at the Sofitel Zallaq Thalassa Sea & Spa in Bahrain and featured a gala dinner on the evening of November 14, which brought together over 100 special guests.
To view the meeting program, please click on this link: CCE Bahrain Meeting Program
Discover the videos and photos below to immerse yourself in this exceptional event.
A WELCOME COCKTAIL TO THE FOREIGN TRADE ADVISORS - NOVEMBER 13, 2019









































FIRST DAY OF MEETING - NOVEMBER 14, 2019

































































































































GALA EVENING - NOVEMBER 14, 2019













































LAST DAY OF MEETING - NOVEMBER 15, 2019